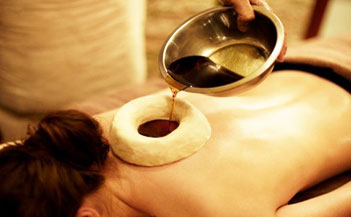 Panchkarma For Pain
There are many kind of painful diseases in the human body, the whole world is suffering due to that diseases since the starting of life on the earth. We all are trying to get the perfact & permanent solutions since many years, & many kind of alternative medicines & allopathy science work on it & get some frutfull results also. But, in India, many years ago our RUSHIS (the ancient scientists) discover very unique & perfact result oriented technic to cure all kind of pain which known as ayurvedic panchkarma therapy.
Yes, an ayurvedic panchkarma therapy has permanent & sure shot solution for all kind of pain. The || NAKSHATRA AYURVEDAM || is very well-known pain management hospital in India which cures all painfull diseases with panchkarma. There are so many diseases & condition that creates different type of pain in different body parts of human body. Let's see here which panchkarma is usefull in which disease.
1. Ankylosing Spondylosis
Ankylosing spondylitis is a type of arthritis that affects the spine. This is a chronic inflammatory arthritis that commonly affects the sacroiliac joints in young men. The onset is usually rapid with recurring episodes of low back pain and stiffness, which radiates sometimes to buttocks or thighs. Characteristically, the symptoms are worse in the early morning and following inactivity.
Advisable Panchkarma For Disease :
2. Osteo Arthritis
Osteoarthritis, or degenerative joint disease, is one of the oldest and most common types of arthritis. It is characterized by a breakdown of the joint's cartilage. Cartilage is the part of the joint that cushions the ends of bones. Cartilage breakdown causes bones to rub against each other, causing pain and loss of movement. Osteoarthritis can range from very mild to very severe, and most commonly affects middle-aged and older people. It affects hands and weight-bearing joints such as knees, hips, feet and the back.
Advisable Panchkarma For Disease :
3. Rhuematoid Arthritis
Rheumatoid Arthritis (known as Amavata in Ayurveda) is an autoimmune disease that causes chronic inflammation of the joints. It can also cause inflammation of the tissue around the joints, as well as in other organs in the body. Autoimmune diseases are illnesses that occur when the body's tissues are mistakenly attacked by their own immune system. Patients with autoimmune diseases have antibodies in their blood that target their own body tissues, where they can be associated with inflammation. Because it can affect multiple other organs of the body, Rheumatoid Arthritis is referred to as a systemic illness and is sometimes called rheumatoid disease.
Advisable Panchkarma For Disease :
4. Gallstone
Gallstone formation is the most common disorder of the biliary tract. The process of formation of gallstones is called cholelithiasis in modern medicine. Though men and women both suffer from gallstones, their prevalence is much more in middle aged women. Also the people with obesity, high cholesterol, diabetes or genetic predisposition are more prone to suffer from gallstones. Gallstones usually occur in conjunction with cholecystitis which means inflammation of the wall of the gall bladder. Ayurveda refers to gallstones as pittashmari and has offered effective remedial measures against them.
Advisable Panchkarma For Disease :
5. Angina Pectoris
Angina pectoris is the name for a clinical syndrome rather than a disease. It is also known as stable angina. The term is used to describe discomfort or chest pain when the muscle cells of the heart don't get enough blood to properly carry out their pumping function. It is likely to occur when the coronary blood flow is less than is required. Symptoms include pain in the chest radiating to the left arm, breathlessness, palpitation, sweating, nausea, dizziness or fainting, heaviness or tightness in the chest or upper abdomen.
Advisable Panchkarma For Disease :
6. Sciatica
Sciatica is defined as an inflammation of the supporting tissues of the sciatic nerves of the leg. This condition is characterized by a pain running from the lumbar (lower back) region to the back of the legs. Sciatica pains – felt in either one or both of the legs – are usually experienced after the age of 30, and go on aggravating as the age advances.
Advisable Panchkarma For Disease :
7. Cervical Spondylosis
Cervical Spondylosis is a kind of Arthritis that affects cervical vertebrae and is characterized by pain at the back of the neck (radiating towards the upper limbs) and vertigo while bending downwards. There might be sensory loss and numbness in the upper limbs. In Ayurveda, it is known as Grivasandhigatvata. There are some degenerative changes in the cervical vertebrae. This, when coupled with trauma or incorrect posture while sitting or sleeping leads to the manifestation of Cervical Spondylosis.
Advisable Panchkarma For Disease :
8. Abdominal Pain
There are three types of Abdominal Pain. 1). Chronic Gastritis 2). Acid Reflux or GERD 3). Irritable Bowel Syndrome(IBS)
1). Chronic Gastritis
Gastritis means inflammation of the mucus lining of the stomach. Patients suffering from chronic Gastritis feel uneasy and uncomfortable during most of the day, and might also experience a persistent feeling of weakness.
Advisable Panchkarma For Disease :
2). Acid Reflux or GERD
Acid Reflux or GERD (Gastroesophageal Reflux Disease) is caused when the valve between the esophagus and stomach becomes weak. Normally, this valve opens to allow food in and then it shuts tightly. With GERD, the valve stays open, allowing stomach acids to flow back up into the esophagus, causing heartburn and many other symptoms. It leads to a condition in which the liquid content of the stomach regurgitates (backs up or refluxes) into the esophagus. If you have heartburn that occurs more than twice a week and/or does not get better with over-the-counter antacids, you may have GERD.
Advisable Panchkarma For Disease :
3). Irritable Bowel Syndrome(IBS)
Irritable Bowel Syndrome (IBS) is a very common digestive disorder that plagues innumerable people around the world. Scientific research has linked it to stress and worry but as yet the exact cause of the disease is unknown.
Advisable Panchkarma For Disease :
9. Renal Stone
Kidney Stones are formed due to crystallization of minerals and waste materials found in urine. A kidney stone may be the size of a pinhead and may pass unnoticed through urine; or it can be large, up to the size of a grapefruit, and may obstruct the urinary pathway, causing acute pain and bleeding, as well as blocking the flow of urine. In Ayurveda, it is known as Vrukka Ashmari (vrukka means kidney and ashmari means stone).
Advisable Panchkarma For Disease :
10. Ear Eache
Ear eache can be sharp and piercing. There are many possible cause of ear pain. Cavities, sinus infections, earwax and tonsillitis are some common ones. The most common ear infection is acute otitis media or a middle ear infection.
Advisable Panchkarma For Disease :
11. Full Body Ache
In Full Body aches, It feels like your entire body aches and is painful and your body is bruised in a few spots, many spots, or all over. Your body has aches and pains that seem unexplainable. It feels like a spot on your body, spots on your body, or your entire body is sore, tender, or painful. Your body feels like it's been run over by a truck. A spot on your body, spots on your body, or your entire body feels achy, painful, sore, tender, or bruised. It feels like every bone in your body aches.
Advisable Panchkarma For Disease :
12. Frozen Shoulder
Frozen shoulder is a condition that affects your shoulder joint. It usually involves pain and stiffness that develops gradually, gets worse and then finally goes away. This can take anywhere from a year to 3 years.
Advisable Panchkarma For Disease :
13. Tennis Elbow
Doctors know the condition as lateral epicondylitis. The rest of us call it "tennis elbow." The term has entered wide use, though only a small group of people diagnosed with tennis elbow actually get it from playing tennis. Tennis elbow is a common injury that will usually heal with minor treatment, but you have to give it time and rest.
Advisable Panchkarma For Disease :
14. Avascular Necrosis
Avascular necrosis (AVN), also called osteonecrosis or bone infarction, is death of bone tissue due to interruption of the blood supply. Early on there may be no symptoms. Complication may include collapse of the bone or nearby joint surface.
Advisable Panchkarma For Disease :
15. Muscular Dystrophy
Muscular dystrophy is a group of disorders characterized by a progressive loss of muscle mass and consequent loss of strength. The most common form of muscular dystrophy - Duchenne muscular dystrophy - typically affects young boys, but other variations can strike in adulthood. Currently, there is no cure for muscular dystrophy, but certain physical and medical treatments can improve symptoms and slow the disease's progression.
Advisable Panchkarma For Disease :
16. Lumber Spinal Stenosis
Spinal stenosis is a disorder that is caused by a narrowing of the spinal canal. This narrowing happens as a result of the degeneration of both the facet joints and the intervertebral discs. In this condition, bone spurs (also called osteophytes) grow into the spinal canal.
Advisable Panchkarma For Disease :